1985

January 30th, 2009

A big change leaps out at you in this picture: there's now a huge road curving across the upper third of the land. Compared to the old driveway it looks like it must be a freeway. In fact, it is just a one-lane dirt road. The owners of the easement for this road prudently cleared out a swath of land on either side of the road to provide a save escape route in a forest fire. This is absolutely necessary: firefighters will rightly refuse to travel down a road that they do not believe they could retreat on.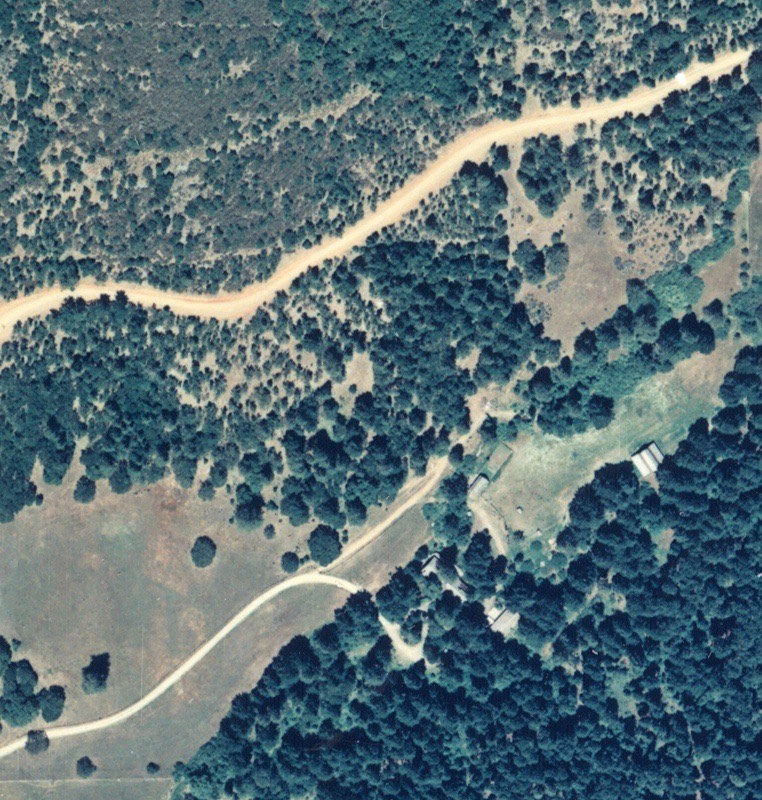 The real question here is, why did the owners of Gargoyle Gulch sell an easement across their land? It wreaked a major change in the Gulch, much to the worse. I surmise that they were in desperate financial straits and sold the easement to the landowner to the east. The sad thing is that the gambit failed; the owners had to sell the land a year or two later, and all they managed to do was lower the value of the property. I also surmise that they didn't spend much time on the land; if you don't go up near the road, its presence is no loss to you.

Another interesting change is the thin horizontal line running just below the top of the image. This line follows the property line very closely. It would appear that somebody wanted to do a precise marking of the property lines and so had to cut a path through the thick manzanita to trace the property line. They did not install a fence; the line was only for the surveyors.

I know that the property gained a new owner at about this time; I also know that this new owner had horses. However, there's no indication in the photo of these new owners.