Welcome to



Erasmus adage for the month of May:

Vorare hamum

To swallow the hook


Our version of this is "to take the bait"; this is an old and obvious adage.



Confucius: "The superior man understands what is right; the inferior man understands what will sell." The story of my life.


Recent additions:
May 23rd: some core verbs for Siboots
May 22nd: a killer problem with Siboot
May 21st: SWAT troubles with Siboot
May 19th: interstitial story design for Siboot
May 17th: book review time: Medieval Cities, by Henri Pirenne
May 16th: recursive sentence structures in Siboot
May 15th: another sample story for Siboot
May 13th: a sample story for Siboot.
May 13th: Siboot design diary: Triangularity
May 12th: Should I utilize Trinary Life in Siboot dream combat?
May 11th: a new Skunky Award! This goes to a Sears Craftsman Tiller, with the most idiotically designed engine I've ever encountered.
May 10: book review: Lowly Origins, by Jonathan Kingdon, presenting a detailed narrative of human evolution.
May 9th: design essay for Siboot: Thoughts on Auras
May 8th: book review: An Examen of Witches, in which the ways of witches around the year 1600 are exposed.
May 7th: specifications for the artwork for Siboot.
May 5th: the second draft of the dictionary for Siboot. The pieces are falling into place.
May 3rd: a problem with inversion in the use of SympolTalk
May 3rd: book review time: The Expressiveness of the Body and the Divergence of Greek and Chinese Medicine
May 2nd: I have to change the color arrangements for SympolTalk
May 1st: The first draft of the dictionary for Siboot. This document is central to the design.
April 25th: A safe sex game?!?!?
April 22nd: First draft of gameplay specification for Siboot
April 21st: A first draft of the screen layouts for Siboot.
April 17th: two first drafts of the overall design document for Siboot: the Overview and SympolTalk
April 17th: a new Skunky, awarded to all computers.
April 16th: I have made my decision regarding my future approach to design and programming
April 13th: Four options are available to me in deciding my future.
April 12th: Should I resort to an open source strategy?
April 11th: Embracing my Inner Dinosaur Should I just design for myself and let the world go its own way?
April 10th: Oh, my aching head! The joys of learning new technologies
April 8th: Wading into Java Servlets
April 5th: another possible de-dinosaurizing strategy: The 'More Java' option
April 4th: a sequel to the essay "Dinosaurized": The Lone Wolf Gets Sociable
April 4th: Dinosaurized, an important essay in which I contemplate my future
March 31st: book review: 9 Algorithms that Changed the Future, by John MacCormick
March 24th: game design essay: Technological Capriciousness
March 20th: Copernicus and Modern Astronomy, a book about exactly how Copernicus pulled it off.
March 6th: a review of a book that supports my hypothesis on the Greek explosion: The Economy of the Greek Cities, by Leopold Migeotte.
March 4th: By Hook or By Crook, a disappointingly dull book by the otherwise excellent David Crystal



My change log, showing what has been added since when.
At last a site map!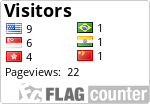 This flag counter installed on April 2nd, 2013